2021 Nissan Sentra Still Going Strong in the Compact Car Segment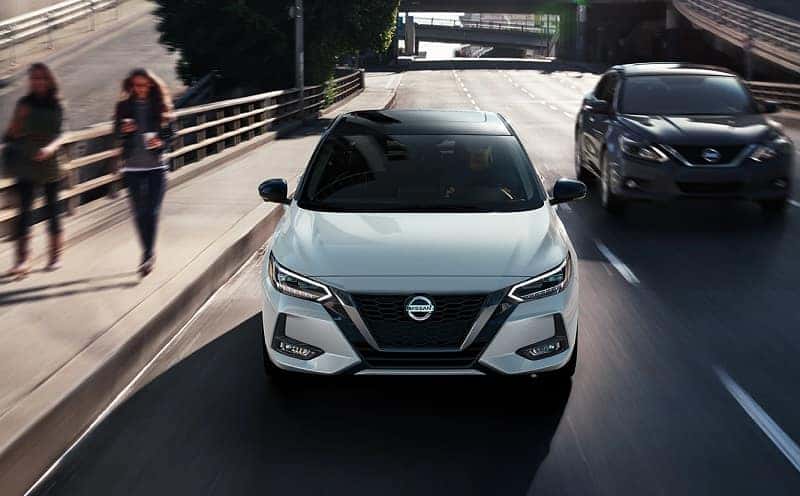 The compact car segment sits below the mid-size car, but above subcompact cars, this is a very attractive space to be in as some consumers desire a car that is not too big and not too small either, and compact cars tend to be more affordable than it's mid-size and full-size counterparts. The new 2021 Nissan Sentra still packs a punch in the midst of strong competitors like Toyota and Honda, after a design overhaul last year, the compact sedan is back with plenty of updates. The Nissan Sentra simulates a premium ride but at an affordable starting base price of $20,000 (plus destination fee). For consumers looking to own a new Nissan Sentra, they will be rewarded with a tasteful and expressive design, interior comfort, and plenty of safety features that will make you want to buy one, and for the money, it is a great bargain.
Overview of the 2021 Nissan Sentra
For starters, the base model Nissan Sentra is now integrated with Apple CarPlay and Android Auto as standard, these are features that were not previously available in the outgoing model. For the top-level SR trim, NissanConnect Services, and Wi-Fi hotspots are now available that will add an extra layer of technology and convenience. For the car buyer that is into exterior styling, there is now an available two-tone paint job option of Electric Blue Metallic with a black roof that gives the new Nissan Sentra a unique and premium look that will make heads turn while you're driving. In an effort to increase the quality of the driver's experience, Nissan has added a refreshed 7-inch touchscreen, cruise control, and dual-zone climate controls. The top-of-the-line SR trim features 18" aluminum-alloy wheels, LED headlights with Nissan's signature LED daytime running lights, a dark-chrome V-shaped grille, and sport cloth seats with contrast orange stitching. If you are looking to get as many features as you can from a Nissan Sentra, the SR trim is a great option.
Below you will find the handling characteristics of the new 2021 Nissan Sentra:
Engine – Every Nissan Sentra regardless of trim level, is equipped with a 149hp 2.0 L 4-cylinder engine
Transmission – Every model carries a continuously variable automatic transmission (CVT) with front-wheel drive
Performance – For performance numbers, the Nissan Sentra is not a fast car, its 146 Ib-ft of torque can take some effort in getting it out of the starting line due to its power-to-weight ratio that results in a 0-60 time in about eight seconds, but once the Sentra reaches highway speeds, you can pass cars with relative ease.
Finalist for 2021 North American Car of the Year (NACOTY)
Did you know the new Nissan Sentra was a finalist for the North American Car of the Year (NACOTY)? Out of the top three contenders, the Hyundai Elantra took first place, the Genesis G80 took second place, and the Nissan Sentra came in third, in the midst of strong competition, being a finalist is a bold statement in itself, and Nissan is proud to have made the top three. Even though Nissan did not win the title for North American Car of the Year, the Nissan Sentra has improved so much over the years that it has been awarded the third runner-up position. Attractive styling and premium interior feel are some of the reasons why the Sentra managed to make the top three for 2021 and coupled with its affordable price, the 2021 Nissan Sentra is still an attractive offering to potential buyers who have a knack for Japanese engineering that offers great value and quality in its class.
Interior and Technology
The 2021 Nissan Sentra has some of the most eye-catching and premium-looking interiors in its segment. The driver is presented with a set of intuitive analog gauges, a center-mounted 8-inch touchscreen for the upper trims, and three air vents coupled together that simulates the air vents found on luxury European cars like the Mercedes-Benz AMG GT for example. Regarding the interior materials of the cabin, it's a mix of soft and hard plastics to keep the price low, but the seats are wrapped with quality leather upholstery that gives the Nissan's interior an upscale look. The flat-bottom steering wheel that comes in the SR trim also adds to the sportiness of the driving experience. There is also an option of an available sunroof to let the sunshine in during road trips or for a weekend outing to the beach, and there's plenty of cargo space for all your belongings for a total of 14.3 cubic-ft of space, which is more spacious than the 2021 Toyota Corolla.
Superb Fuel Efficiency
According to the EPA, the 2021 Nissan Sentra gets 29 mpg city and 39 mpg highway with a combined rating of 33 mpg of mixed driving. Its 12.4-gallon fuel tank is small but consumers can expect a fuel range of a little more than 400 miles on a full tank of gas which enables the Sentra to travel medium to long distances with relative ease. This is due to Nissan's more efficient CVT engine that has improved performance and fuel efficiency than the previous model year.
How Much Is It?
For the potential car buyer, owning a Nissan Sentra is possible without breaking the bank, even for the individual who has a budget. The top-level SR trim for example tops out at around $22,675 while extra add-ons and accessories can push the price to about $24,000 still within the range of affordability. For more information on buying or leasing a new 2021 Nissan Sentra, contact us at Nissan Ellicott City for deals that you don't want to miss, you can also take a look at our current inventory for amazing discounts.