2022 Nissan Frontier Rally Truck to Compete in 2021 Rebelle Rally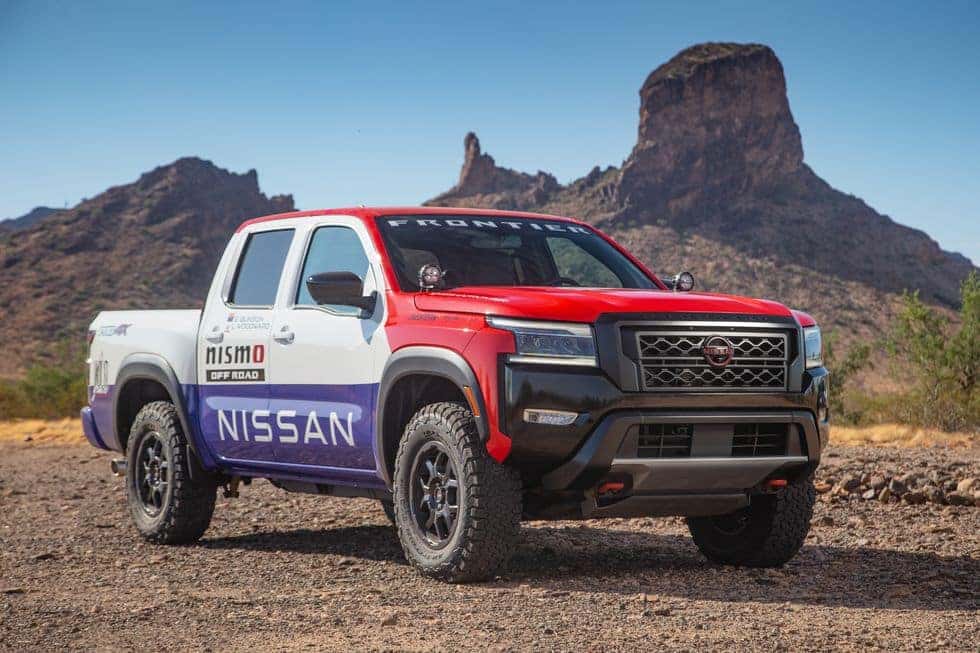 The 2022 Nissan Frontier undergoes a significant transformation for the 2021 Rebelle Rally, an endurance race in the Mojave Desert featuring all-women drivers. However, instead of being a speed race, it is an open-navigation event that is more of a road trip than a fierce racing competition. The Rebelle Rally covers about 1,500 miles of terrain across California and Nevada, giving drivers ample opportunity to explore vast amounts of open country. An interesting catch is that event organizers remove all smartphones, GPS devices, and computers from the drivers and provide them with old-fashioned tools like topographical maps, a compass, and a roadbook.          
The 2021 Rebelle Rally spans a total of nine days from October 8-17, 2020. Registration is currently open, and those interested in participating can register at RebelleRally.com and learn more about prize money and other awards. The official starting point of the event is at the Hoover Dam in Nevada, with the final destination being California's Imperial Dunes.
Nissan's Competitive Spirit
Nissan's racing heritage comes from not only the track but the open-country of off-road rally racing, and with the Rebelle Rally starting soon, Nissan is sure to impress its fans. The show's star is a brand new 2022 Nissan Frontier PRO-4X model that receives a multi-color vehicle wrap in red, white, and blue. There are also multiple decals on the vehicle showcasing Nissan and NISMO branding. The 2021 Rebelle Rally serves both as a marketing strategy and driver experience test to show consumers the off-road capability of the Frontier. 
Rally Vehicle Specifications
The vehicle is a Nissan Frontier with the Pro-4X Package featuring unique 10-spoke, 17-inch wheels wrapped in BFGoodrich all-terrain tires for the event. It has an electronically locking rear differential, Bilstein dampers, underbody skid plates, and four-wheel drive. NISMO also adds its touch of performance to the pickup truck by adding 4-inch lights mounted on both rear sides of the hood, a performance exhaust system, a chrome-tipped exhaust tip, and a custom suspension kit. 
Buying a New 2022 Nissan Frontier
The new Frontier rewards drivers with a standard 8-inch touchscreen (however, a larger 9-inch unit is available) and comes equipped with Apple CarPlay, Android Auto, and several charging outlets such as a USB-C port. The Frontier is also available with a subscription-based Wi-Fi hotspot and wireless smartphone charging. The sound system is upgradeable to a nine-speaker Fender Audio System for an added cost, and for the first time, the 2022 Frontier comes standard with Nissan's Safety Shield 360.
There is only one engine option available; therefore, every new Frontier receives a 3.8 L V6 engine that produces 310hp and 281 lb-ft of torque via a nine-speed automatic transmission. For drivers that need to haul heavy equipment, the 2022 model can tow up to 6,720 lbs which is more than enough to tow small to medium-sized boats, trailers, and much more. Consumers have the choice to select their 2022 Nissan Frontier in either a King Cab or Crew Cab configuration. Both are two-row cabins, but the Crew Cab is slightly larger, offering increased legroom for back seat passengers, while the King Cab has a more compact cabin. 
The 2022 Nissan Frontier is currently on sale! Don't hesitate any longer. Visit us at Nissan Ellicott City and take an in-person tour of some of our most popular models. The base S trim starts at $27,840, and the top-tier PRO-4X model starts at $37,240 (please keep in mind vehicle pricing is subject to change to accommodate destination fees and additional equipment). We are offering flexible payment options for buyers that qualify! Please fill out our contact form and let us know how we can further assist you.
Image Source: Nissan