2022 Nissan GTR Nismo Special Edition Launched in Collaboration with Mcdonald's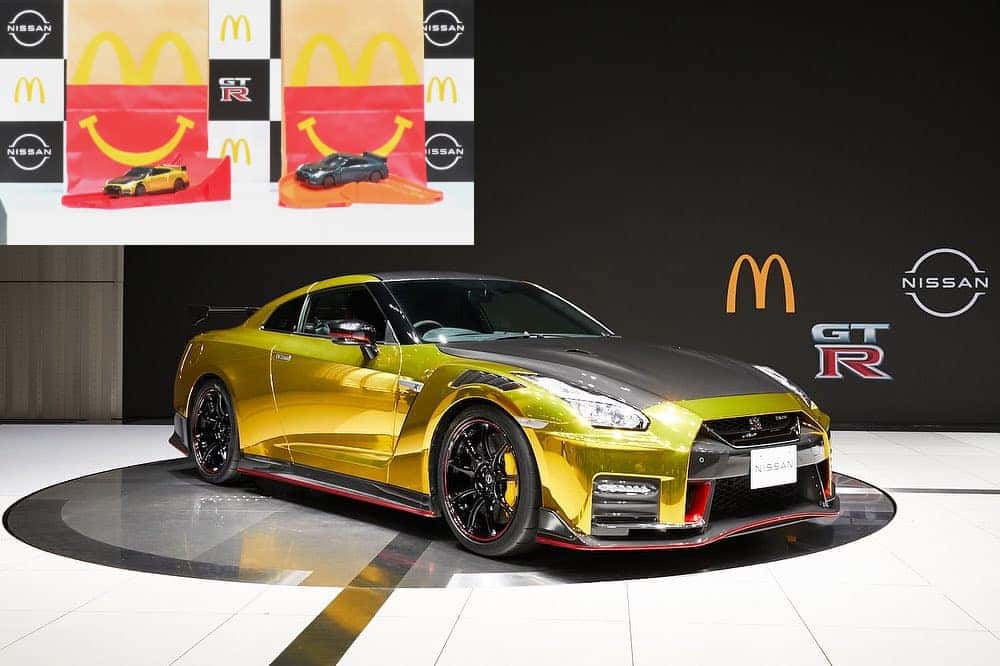 Nissan recently revealed their 2022 GTR NISMO Special Edition and it was launched in collaboration with Mcdonald's Japan at Nissan's GranDrive showroom in Tokyo. Nissan was aiming for a memorable debut for its latest GTR Model, and what better way to showcase a sports car with a fast-food brand that is known worldwide and that is easily recognizable. Brand recognition has been Nissan's goal with their vehicle lineup, but especially with their flagship R35 GTR sports car that has been in production since 2007.
The 2022 McDT-R
The R35 GTR is nearing the end of its production life cycle as Nissan has plans to build a Final Edition variant, but in the meantime, Nissan gave the press something to talk about for several weeks in what has been dubbed the McDT-R. The sports car is wrapped in gold chrome and features a carbon-fiber hood and roof, with yellow BREMBOⓇ brakes and red trim accents. It's an immediate attention-grabber, but it's not a vehicle that is going to go into mass production as it's purely a marketing stunt by Nissan in collaboration with Mcdonald's Japan.
Nissan's display of the McDT-R was also a "hype event" in favor of the GTR's return as a toy car that will be offered in happy meals at Mcdonald's restaurants throughout Japan. The McDT-R will be made into a hand-sized toy car made by Tomica, and will be included in each happy meal between April 30 and May 13, 2021.
2022 Nissan GTR Nismo Special Edition
On the other hand, the 2022 Nissan GTR Special Edition is a production model and it will also be made into a hand-held toy available with the purchase of a happy meal. The Special Edition was revealed alongside the McDT-R, and was displayed in a "stealth gray" color with a red carbon fiber splitter, side skirts, rear diffuser, and forged aluminum alloy wheels wrapped in a red accent trim. The 2022 Nissan GTR Nismo Special Edition is rated at 600hp and 481 lb-ft of torque provided by its twin-turbocharged V6 engine. No official pricing numbers have been released by Nissan just yet, it is projected that it will be considerably more than the previous model year that started at a price tag of $210,740 (plus destination fee).
McDonald's Japan Sweepstakes
There is an online sweepstakes competition hosted by Mcdonald's Japan that will reward the winners with a test drive in the McDT-R. For specific details, two families will be chosen with three eligible drivers per family granted the opportunity to ride along with a Nissan test driver on Nissan's Grandrive proving grounds in Kanagawa. After the drive, the families will receive a commemorative photo with the McDT-R in addition to receiving the toy version. For the finalists that didn't win the test drive, they will instead receive a $10 Mcdonald's gift card with an image of the McDT-R embellished on it.
Nissan's Marketing Strategy
Nissan is confident its marketing strategy with Mcdonald's and Tomica will resonate with car fans and the younger crowd. In anticipation of the Final Edition of the GTR that is set to release in the near future, Nissan hopes to build excitement and rapport with its customer and fan base to highlight the R35's racing heritage and the legacy it has lived as a track car and also has an iconic Japanese sports car for everyday driving. For more information on the 2022 Nissan GTR Special Edition, stay connected with us at Nissan Ellicott City. By filling out our contact form, we will be able to answer any general inquiries or questions about ordering and delivery. We also have amazing deals and discounts on our sports car inventory you don't want to miss. We look forward to your visit!
Image Source: Nissan