2023 Nissan Leaf Receives Upgrades Before Debut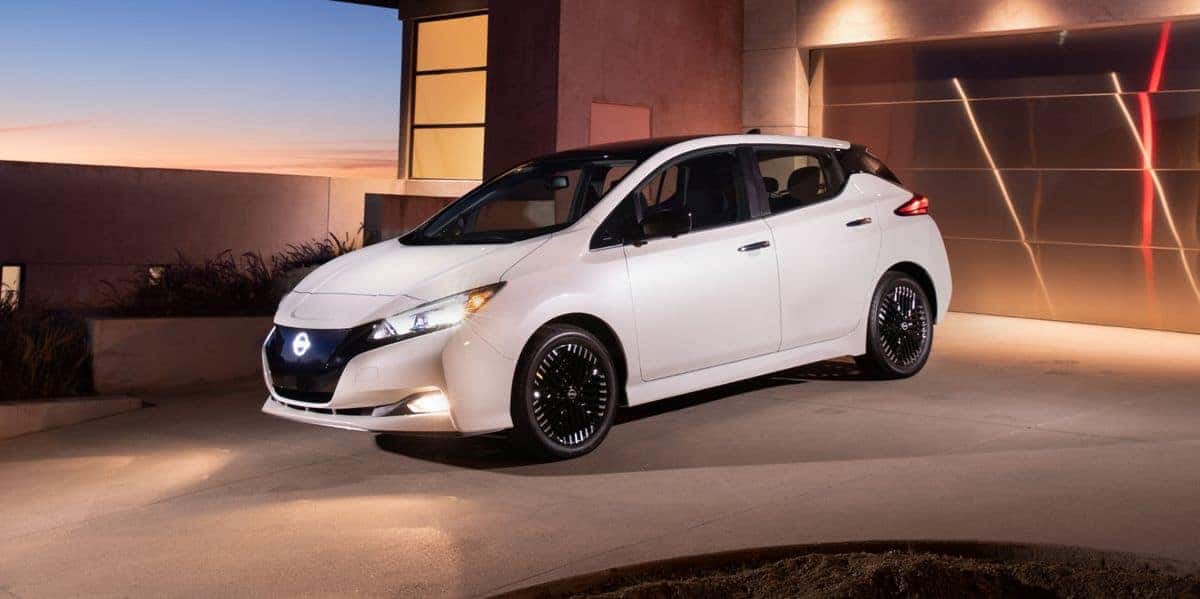 While Nissan looks to build a powerhouse in the electric vehicle landscape , there are new choices ready to debut this summer. We can expect the 2023 Nissan Ariya electric crossoverSUV  at some point in the fall of 2022. This month, we learned Nissan gave the Nissan Leaf a price cut of more than $4,000. Thus making the new Leaf the most affordable EV in the U.S. market. They also have given the Leaf some styling upgrades and offer two trims. Eventually, we will see how the Nissan brand's game-changing batteries will power all their EVs.
Breaking Down the 2023 Leaf
The two trims include the Nissan Leaf S, with a 40-kwh battery pack, and the Nissan Leaf Plus SV, with the 62-kwh pack. The S supplies an EPA-estimated range of 149 miles and as much as 215 miles for the SV Plus choice. Drivers will note a power and acceleration upgrade between the two options. The S trim provides a 110-kw electric motor, making 147 horsepower and 236 lb-ft of torque, while the SV Plus has a 160-kw motor, providing 214 horsepower and 250 lb-ft of torque.
The style refresh adds a fresh grille design and bumper mold, as well as a new headlight design with black inner finish. Also, in sync with the Nissan  Ariya, the Nissan badge at the front looks sharp and is illuminated. This is all part of the massive planning Nissan has done to promote EVs. Nissan has introduced a new five-spoke 17-inch alloy wheel design. Other details include the rear lower diffuser, rear spoiler, and tire deflectors at the front and rear wheels have all been modified for upgraded aerodynamics. 
2023 Nissan Leaf Further Upgrades
Inside, the 2023 Nissan Leaf gets new badging on the steering wheel, with a startup video for the instrument panel screen. Black cloth upholster is now standard, with the Leaf S getting gray finishers and the Leaf SV Plus getting gloss-black finishers. The Leaf SV also includes Nissan's ProPilot Assist driver-assistance system that includes stop-and-start cruise control and active lane control. By summer of this year, we will offer the new 2023 Nissan Leaf. The 2023 Leaf S starts at $28,425 MSRP, while the Leaf SV starts at $36,425 MSRP. The Nissan brand is headed towards a widely-beloved electrified variety for customers, so this move could be to save on resources to make those new EVs. Holding out for a new Nissan ride? 
Drive Nissan Vehicles Are Here At Nissan Ellicott City
We welcome all our customers to view our incredible new Nissan vehicle inventory. Our incredible and experienced sales team is here to help with online sales and even trade-in offers. Our sales team is friendly and ready to assist with all buying, leasing offers, even now, thanks to our online capabilities. We're here to help with any financial help, needs, or suggestions to help make paying for a vehicle easier. Apply for Auto financing with our assistance right now.
We can also take care of your current vehicle should you need any repairs or maintenance. Allow us to get your vehicle to you quickly, just by making an online service appointment. We can start with nearly any service needs our customers might have. We look forward to making a truly wonderful automotive shopping experience at Nissan Ellicott City. See you soon!