A 2021 Nissan Sedan Comparison: Altima vs Sentra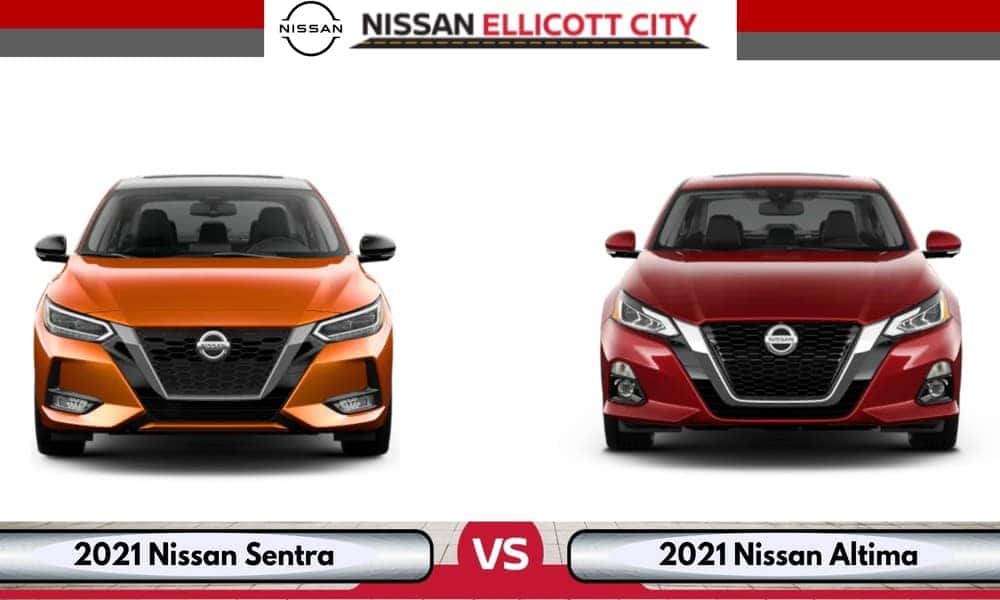 Nissan's most popular sedans are the Sentra and Altima, which are best sellers among younger buyers and those with a budget seeking to obtain a reliable, simple, and practical car for everyday driving. In a typical 4-door sedan style, both models offer drivers the best technology and safety features for their respective classes. Competing in both the compact and mid-size sedan segments, this dynamic duo is Nissan's sweet spot when it comes to sedans. However, there are distinctive features that make each sedan unique and different from one another. This article serves as a vehicle comparison and buyer's guide for consumers interested in driving home a brand new Nissan sedan.
2021 Nissan Sentra
The compact Sentra sedan comes equipped with a 2.0 L 4-cylinder engine that produces 149hp and 148 lb-ft of torque via a CVT transmission. Although it is not the most powerful engine in its class, Nissan's goal with the 2021 Sentra is to prioritize fuel economy while offering a reasonable dose of power. It is pleasantly quiet and comfortable inside the cabin for an economy sedan, and the dashboard controls are nicely laid out. The Sentra also has Zero Gravity Seats that give drivers a super comfortable ride on long road trips. There is also a good ratio of rear-seat legroom and trunk space, making the vehicle very practical. Standard cloth seats are on the base S trim, but the SV and SR trims come equipped with quilted leather upholstery along with a leather-wrapped steering wheel. 
The most affordable of all three trim levels is the S trim that starts from $19,510. For the ultimate experience, opting for the top-tier SV trim is highly recommended from a starting price tag of $21,850. With an available Premium Package (a value of $2,270), the Nissan Sentra receives luxury-like features such as an Intelligent Around ViewⓇ Monitor. Thin projector LED headlights, a Power Sliding Glass Moonroof, and so much more. (Please keep in mind vehicle pricing is subject to change to accommodate destination fees and optional equipment). 
2021 Nissan Altima
Nissan's mid-size Altima sedan has two engine options, while the Sentra comes with only one common engine choice. But just like the Sentra, the Altima has a CVT transmission and puts down power in two ways: via a 2.5 L 4-cylinder engine rated for 188hp and 180 lb-ft of torque, and a 2.0 L turbocharged engine that puts out 248hp and 280 lb-ft of torque. The Altima earns a rank above the Sentra when it comes to its interior quality and features. There are more soft-touch materials and less plastic on the Altima, and its standard 8-inch touchscreen provides easy access to Apple CarPlay and Android Auto. Unlike the Sentra offered in three trim levels, the Altima provides six trims: S, SV, SR, SR 2.0, SL, and Platinum. The base front-wheel-drive S trim is the least expensive option that starts at $24,550, and the top-of-the-line Altima Platinum begins from $34,250. (Please keep in mind vehicle pricing is subject to change to accommodate destination fees and optional equipment).  
Buying a New Nissan Sedan
Both sedans are similar in various ways. They both have 4-cylinder engines, CVT transmissions, five-passenger seating, and a five-star safety rating from the National Highway Traffic Safety Administration (NHTSA). These are more reasons to buy a Nissan sedan at Nissan Ellicott City, your vehicle destination for everything Nissan! Pass by our dealership lot or give us a call and let us assist you in finding the right Nissan vehicle for you and your family. We have a great selection of Sentra and Altima sedans at unbeatable local prices! You can also get in touch with us online by sending us a message via our contact form and receive a response within the same day!
Image Source(s): Nissan, Nissan Ellicott City