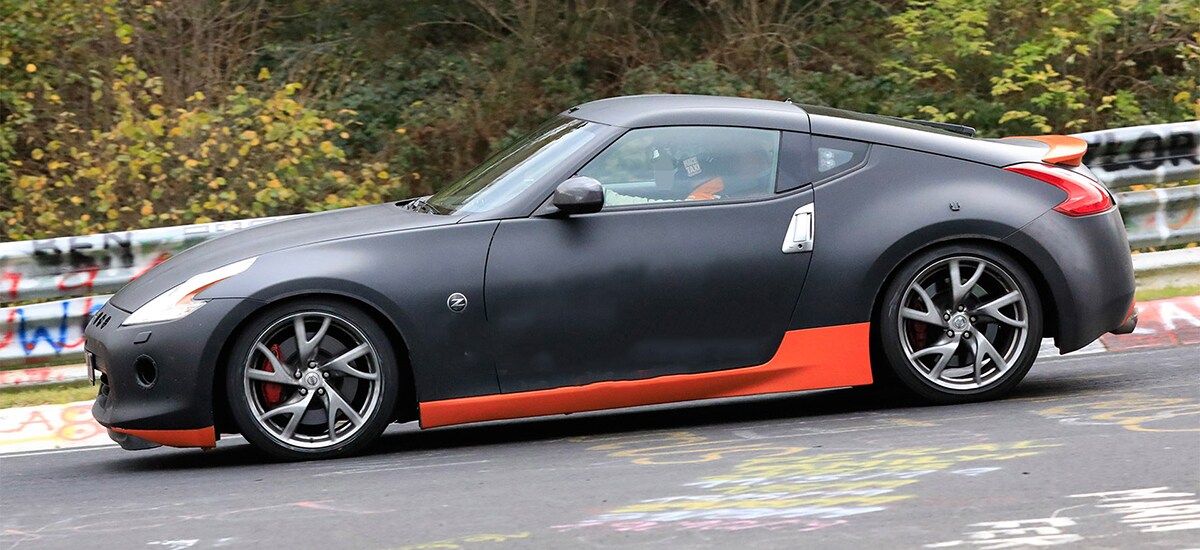 Photo credit: Nissan
While 2022 seems far away, that is not the case for Nissan and their upcoming 2022 Nissan Z sports car that has been spotted during testing on race tracks this past month. This Nissan product will be the first successor to the popular 37OZ. A testing mule was first spotted at Nurburgring, Germany. The front fascia of the 37OZ has been changed up and provided more openings and this new 2022 Nissan vehicle will most likely be smaller in size and perhaps become a lighter, more agile vehicle. Reports have shown this new Nissan car will be narrower than the 37OZ. This idea by Nissan to add a lighter vehicle that fit between their Z and GT-R was first rumored back in 2013 and is now apparently becoming reality.
Nissan Pulls Out All The Stops
Hiroshi Tamura, the chief product specialist for the GT-R and Nismo has stated the redesigned Z is not expected to be much lighter in weight but will drive that way. The new-look Nissan Z will have multiple powertrains to gain a greater following. One of the speculated engines will include a 400-horsepower 3.0-Liter twin-turbocharged V6 as well as a hybrid option to entice new customers. This Nissan project is still in the first stages of creation with the new Z not expected to debut until 2021 with this latest car model to come the following year. As more details are revealed about the upcoming Nissan vehicles headed our way, we will keep our readers informed.
Nissan Renews Deal With SiriusXM
News regarding Nissan continues with the latest deal patched together with SiriusXM. A three-month introduction will be made for all customers to enjoy for free. Nissan signed a deal through 2028 with SiriusXM to include all their Travel Link stations, talk shows, music channels, and entertainment.
"We are thrilled to extend our long-term relationship with Nissan North America through the 2028 model year. Nissan is committed to providing their customers with the best automotive technology, including SiriusXM with 360L," said John Zavisa, VP of Automotive Partnerships for SiriusXM.
For those who are looking to get into the latest Nissan vehicles, we can help get them going when they come to visit us at Nissan Ellicott City.
Drive the Nissan You Want With Our Help
Come to Nissan Ellicott City and discover our newest Nissan vehicles. We have it ready to go for our customers. Don't worry about the buying process, we make it easy to handle all sales with an A-list sales team. We're very friendly and can handle all selling, buying and leasing options for our guests. Thinking of going ahead with repairs on your current vehicle?
Let us assist with timely service at our service center. With a simple
online appointment
, we will be able to start getting ahead on a resolution towards resolving your automotive needs. Reach out to us at 410-465-5550 for any sales inquiries, 877-442-4924 for all things service. We hope to see you soon at
Nissan Ellicott City
!