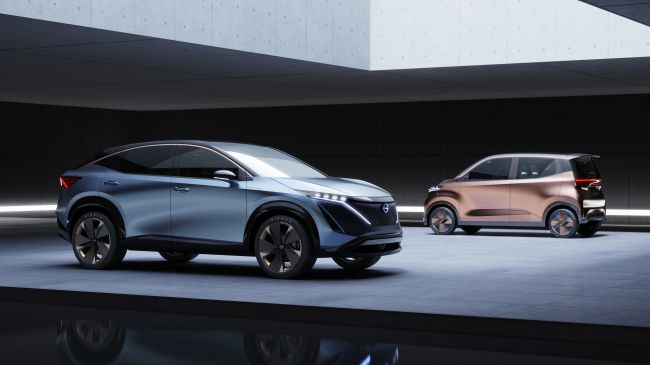 Concept cars are always something to look forward to at auto shows. It's exciting to take a look at what companies want to bring to the table. At the Tokyo Motor Show this year (Oct 24– Nov 4) Nissan was showcasing its Ariya Concept.
There are a lot of creative and wonderful ideas of what the future can hold, but they are nothing than designer dreams at the moment. At the show, Nissan displayed two new concepts, the IMK and the Ariya. The core values for the Ariya Concept revolve around Nissan's Intelligent Mobility thinking.
It would feature a host of new and improved technology like the ProPilot, 2.0, which is sitting at the heart of it all. The vehicle offers a package that would include the ability to drive hands-off on the highway. That will complement Nissan's already handy Door to Door Navigation.
Drivers would benefit from the vehicle having a lot of cameras and sensors which cover a full 360 degrees around the car. The smartphone you are attached to is meant as a critical piece of the controls in the vehicle. The seat position and heater controls can be adjusted before you're even out the door; that's all in part to your mobile device.
Thrown in for good measure is the ProPilot Remote Park. The ProPilot Remote Park allows the car to park itself once the driver is out. Talk about having a car that has these advanced capabilities.
In Honor of Japanese Design
The front of the vehicle is striking as its dominated by the traditional grille-replacing 'shield.' Instead of being an everyday affair, it hides a lot of the tech, which makes the car tick. Another point is how the interior can make even the tallest of passengers feel comfortable.
Once inside the vehicle, you can see the Japanese influence. It can be spotted in aspects like the vehicle's seats with the thinner frames. The thinner frames can make the seats feel roomier.
Japan is known for its minimalistic approach. Still, the display on the vehicle is 12.3-inches and features haptic controls that offer a definite air of less-is-more. Buyers will get the premium feel from the seat coverings, the door trims, and the wood flourishes which deliver a living-room-on-wheels experience.
The Ariya Concept looks like it could have the performance to match the dynamic look. Nissan executives have hinted at the capability of the Ariya. The handling tweaks of the Ariya are pulled in from the inspirational and legendary GTR.
The specifications are pending, but it looks like the Ariya sounds is an exciting prospect to drive. Many EVs, and maybe one or two concepts, might actually make it into production. If you're interested in test-driving a Nissan model, make sure to ask any of the experts at Nissan Ellicott City and follow us on social media.
Photo Credit: techradar.com