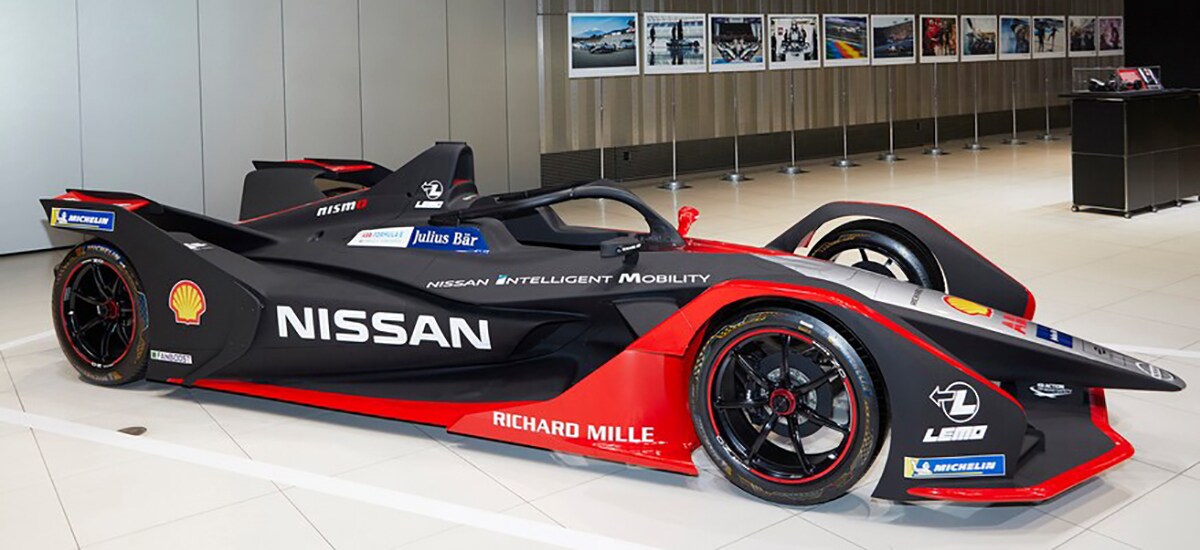 Nissan has its hand in the Formula E series and has just revealed before the Tokyo Motor Show, a redesigned racecar that will compete in the following season. Nissan's new Formula E car for the upcoming sixth season of the ABB FIA Formula E Championship series will have a distinctive look that will include a red, black, and white design that resembles a Japanese kimono. Veteran drivers Sebastien Buemi and Oliver Rowland will wear kimonos during the season while driving the Nissan product. Both drivers were on the Nissan e.dams team. The color scheme will also be applied to the Nissan Leaf Nismo RC, a performance version of the Nissan Leaf with a dual electric motor.
"As we approach the beginning of our second season of Formula E competition, our design team proposed a new look, one that celebrates our Japanese heritage and vibrant technology DNA. We used our iconic Nissan racing red, black, and white colors layered diagonally in a kimono pattern, which creates a dynamic and powerful impression," said Alfonso Albaisa, Nissan's senior vice president for global design.
Nissan Has Been Solid Since Day One
The current statics for the Nissan E.Dams is 16 wins in 58 races with 32 podium finishes. Since the arrival of Nissan in 2017, Nissan has climbed up the charts fast and should win the title this year if all goes well. Six podium finishes last year with six pole positions and 16 Super Ple qualifying appearances by both Rowland and Buemi have made Nissan a very powerful opponent. This is the first Japanese manufacturer to enter the series and they are a world leader in the manufacturing of all-electric cars as well as the design of these vehicles.
Nissan Team Gets Ready For the Upcoming Season
Last season the Nissan E.Dams team came in second place in the Formula E Championship. They also won first place in the New York City E-Prix. This is Nissan's second season entering the Formula E circuit. In June 2019, the FIA revealed a two-motor system is set to be removed at the end of the season. The 2019-20 E.Dams racers have returned to a lone motor setup. The all-electric Formula E street-circuit series begins this season amongst stiff competition including Porsche and Mercedes-Benz. The series will hold 14 races held in 12 cities including New York, London, Rome, and Mexico City. The season begins on November, 22nd in Diriya, Saudi Arabia.
Find Out More About Nissan and Drive New Nissan Today
For any interest in any new Nissan vehicles, we take pride in all things Nissan at Nissan Ellicott City. Let us know on social media what you think about our team in the Formula E Championship circuit or any of our latest Nissan vehicles. We're happy to help any of our customers get into a brand new Nissan. We also have a wide collection of quality pre-owned vehicles. We're happy to help with any buying and leasing needs of our customers.
For any service needs,
make an online appointment,
we can help with nearly any service needs our customers should have. We look forward to making your experience at Nissan Ellicott City a fantastic one. See you soon!