Debut Nears For New Nissan Ariya EV SUV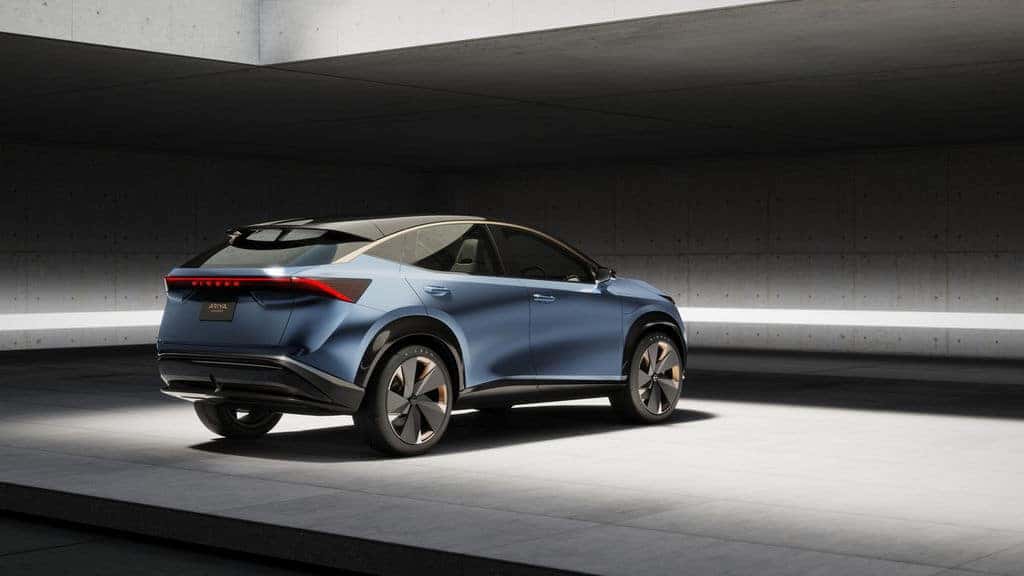 Nissan is getting ready to release its new production vehicle, the Ariya. It's been a concept for many months and now the fruits of Nissan's labor will be rewarded. The affordable EV will enter the SUV segment and begin Nissan's new next generation design that is aimed at rewarding consumers with beauty and forward thinking. The front grille is known as a shield as the engine that is being protected doesn't need to ventilate since there is no air being pushed out. This electric vehicle instead adds a protective tech shield to ensure its EV powertrain is safe and secure. Not having an internal combustible engine has its perks!
Nissan Has Big Plans For It's EV Future
The Nissan Leaf EV was a game-changer when it debuted and we can expect an even bigger return on the investment Nissan placed into the Ariya, once this new EV officially is ready for customers. The 2021 Ariya is a long-range SUV that will begin at $40,000 MSRP (Plus destination fee) and offer close to a projected 300 mile driving range. Three trims will be available, the base trim S, mid-tier SV, and premium SL. Not just a smooth, but fast ride experience is awaiting customers as Nissan has tested the Ariya hitting a zero to 60 mph time in under five-seconds. Two electric motors are found in the vehicle. One is in the rear, the other is placed under the floor. The 2021 Ariya made its debut at the 2019 Tokyo Auto Show and while the vehicle is still months from coming out, the timeline for Nissan has not seen any setbacks even during the Coronavirus outbreak.
More EV Concepts To Be Made?
Nissan is happy to continue working on the future of the automotive industry with electric vehicles. Nissan has started all their other vehicles that have been mentioned in future EV offerings. Japan has set new government standards with a goal of reducing pollution in fuel consumption and CO2 emissions by 32%. They are expected to make this happen by 2030. Meanwhile, in 2020, we are sure that the technology being produced currently by Nissan is a step in the right direction. One of Nissan's rivals, Volkswagen, is coming out with its own electric crossover that will be similar in size, but Nissan should be the first to strike with its new creation ready to begin production for owners to buy and embrace. Curious to feel what it's like to drive new Nissan vehicles?
Take Home the Newest Nissan Vehicles Right Now!
At Nissan Ellicott City, we are ready to go with a knowledgeable sales team and expect service techs for any needs our customers have. Let us know directly on social media about the newest Nissan vehicles. We're happy to help with any and all things automotive for our customers. Our superb sales team is friendly and ready to assist with all buying, leasing or trade-in offers.
If your current vehicle has on-going issues, please allow us to help return your vehicle to the road quickly, just make an online service appointment. We can assist with nearly any service needs our customers might have. We look forward to making your experience at Nissan Ellicott City a great one!