Get Thrifty With The 2021 Nissan Versa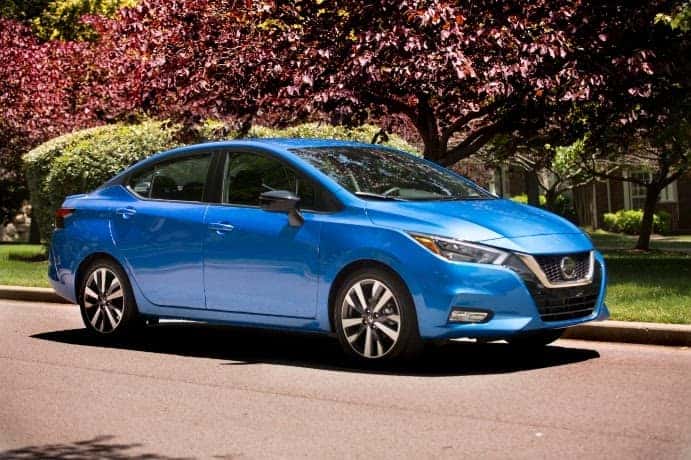 In today's car market, buying a truly affordable car only seems plausible if you're opting for a pre-owned version, and while there's nothing wrong with this, buying a new one can provide more peace of mind when it comes to maintenance. Many compact sedans that are deemed affordable will be priced around $25,000, (plus destination fee), but for those who are looking for a real deal, virtually any subcompact is the ticket…and the 2021 Nissan Versa is the prize-winning stallion.
Last week, Friday (Nov, 6) the automaker said that the new low-budget Versa has a starting price of $15,855, (plus destination fee). For a new car or even a pre-owned vehicle, this is certainly considered a steal, especially for a car that is loaded with technology. It is worth noting, however, that the 2021 Versa only has a five-speed manual transmission, which isn't considered that most popular choice among car buyers, therefore the more realistic price is at $17,525, (plus destination fee) for the continuously variable transmission (CVT)…but if you ask us, that's still considered more than generous.
Going back to technologies, the Versa comes standard with a suite of active safety equipment such as Automatic Emergency Braking and Lane Departure Warning. The company increased its incredible package deal with the Nissan Safety Shield 360, which is available on higher trims. Drivers and passengers alike will also enjoy the 7-inch infotainment touchscreen.
While this car is suitable for those who prioritize lowness in price, that doesn't mean one shouldn't at least consider the added benefits of the higher trims, namely the SR. With this higher-tier trim, you'll have access to luxuries like heated seats, automatic climate control, and Adaptive Cruise Control. The starting price is $19,265, (plus destination fee), which still isn't considered much of a pocket thief. The SV trim really spruces up the cabin with more stylish seating and the exterior with a fresh pair of alloy wheels, and for a lower price of $18,665, (plus destination fee).
Either way, buyers will drive a 1.6-liter inline-four engine that pushes 122 horsepower and 114 pound-feet of torque. To get an idea of the drive, a reviewer from Kelley Blue Book who rode the 2020 model with the same engine said that buyers should expect a harmless ride as long as they drive in a relaxed and sane manner with the CVT. A great thing about the CVT is that it's very reliable in finding the most efficient ratio.
The 2021 Nissan Versa proves that sometimes you don't get what you pay for, because with the Nissan brand, you'll always get so much more!
Nissan Ellicott City
When the time comes to purchase the incredibly wallet-friendly 2021 Nissan Versa, be sure to do it a Nissan Ellicott City. We carry an extensive range of Nissan cars, SUVs, trucks, vans, and even electric models. Best of all, nearly all of these vehicles are reasonably priced. Nissan has your back and do we!
Those who are interested in any of our models can simply view our online new car inventory and chat with a representative for further assistance.
Photo Source/Copyright: USA Nissan News