Nissan Offers Innovation and the Perks of EVs With New 2021 Vehicles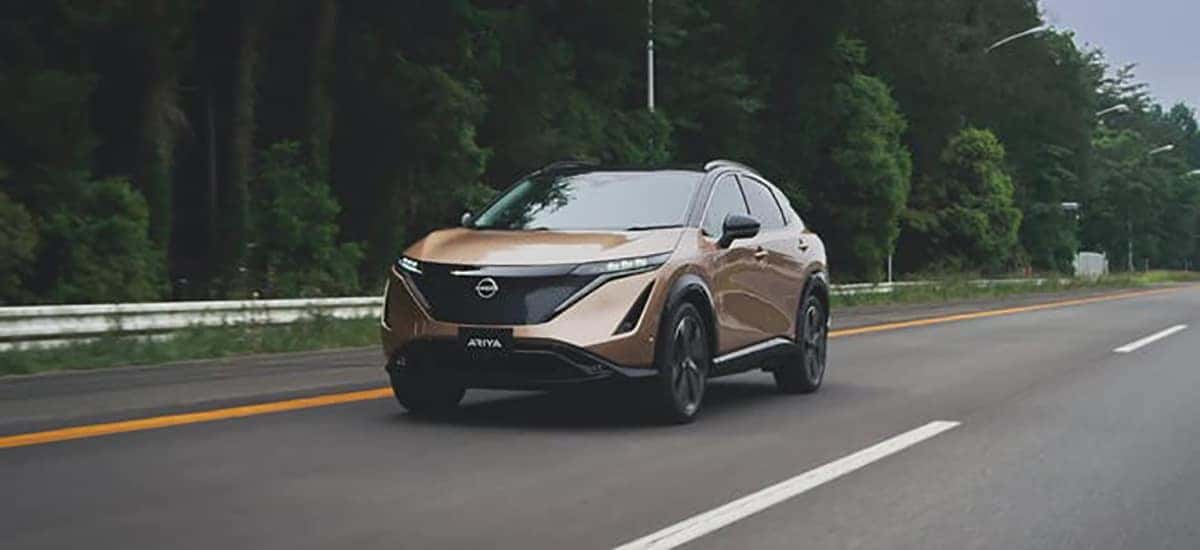 Photo Credit: PA Media
A new year has arrived, and perhaps no other vehicle brand is ready to take a bigger leap forward in the EV market this year than Nissan. To start the year off, Nissan is closing in on production for the all-new 2021 Nissan Ariya EV SUV. The new 2021 Nissan Kicks has debuted and features a new look in the SUV segment. The 2021 Nissan Rogue Sport is also getting some upgrades worth nothing, even getting the support of Brie Larson. and the 2021 Nissan Armada has tons of worthwhile features. Let us share some details about the 2021 Nissan SUV lineup.
New Refresh Of Nissan Kicks Arrives
A mid-cycle refresh of the Kicks has helped change the appearance of what customers think of this Nissan. A larger grille and revamped headlights give a lot of balance to the exterior. New wheel designs and added paint colors are also included with this change. The 2021 Nissan Kicks will also offer a low starting price of just $20,595 MSRP (Plus destination fee). The standard Apple CarPlay and Android Auto inside of the Kicks are expected to be something owners will find in all new 2021 Nissan vehicles. Drivers will gain a large, standard 8-inch touchscreen, an upgrade over the 7-inch touchscreen for all mid-range SV, and the top-tier SR trim. What else will Nissan offer for customers in 2021?
The Upcoming Nissan Scene
The latest details have provided us with the knowledge the 2021 Nissan Ariya will be a self-sustaining battery driven ride the owners will undoubtedly embrace. Long gone are the days of the need for gasoline engines, as Nissan is gearing up to add an EV trim for every vehicle by 2025. The 2021 Nissan Ariya will come with a 130-kilowatt DC quick charging and Nissan said it would be able to add 175 miles of driving range with a simple 30-minute charge. 
We've detailed what to expect with the latest Nissan sedans, like the 2021 Nissan Maxima and 2021 Nissan Sentra. The sedan market has not vanished, as these vehicles provide exceptional power, modern technology, and all the amenities buyers are looking for in a car. Nissan also offers a large variety of SUVs including the upcoming 2021 Ariya expected sometime around summer 2021. This year has plenty of Nissan's plans going further into motion as well as preparing for the future.
What Will Nissan Think of Next?
Adding some insight to where Nissan is headed, there are rumors Nissan will build its own pick up to compete with the likes of Toyota and even the big three American pickup brands. Lookout Ford! Curious to know more about where Nissan is headed? Rush over to Nissan Ellicott City to get started on making a new or pre-owned Nissan vehicle yours. Even during these uncertain times, we are here to help our customers with their automotive shopping needs. We welcome all our readers to view our new Nissan vehicle inventory. 
We're here for you and our incredible and experienced sales team is here to assist with online sales and even trade-in offers.  We can also take care of your current vehicle should you need any repairs or maintenance. Allow us to get your vehicle to you quickly, just by making an online service appointment. We can start with nearly any service needs our customers might have. We look forward to making a truly remarkable automotive shopping experience at Nissan Ellicott City.