Nissan Ready To Produce $1.1 Million-Dollar GT-R50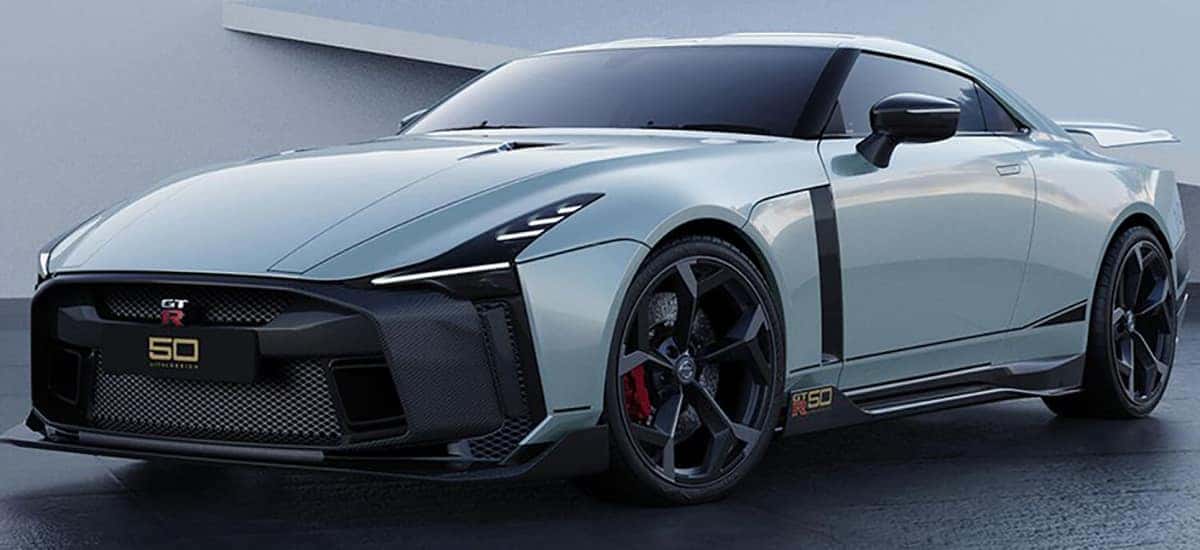 Nissan has been working diligently to produce the final version of the GT-R50. This was a special vehicle that would be made to cater to the extremely fortunate and wealthy. Only 50 of these vehicles are expected to be produced, with its whopping $1,126,799 MSRP starting price. Well, a year since its first debut appearance the GT-R50 is much closer to being shipped out to those who ordered one. The delivery rates range from the end of 2020 to the end of 2021. While a year-long process might turn into two, those awaiting this vehicle will gain an impressive Nissan vehicle that represents the 50 years of the GT-R and the company that helped make the vehicle, Italdesign. 
Building the New GT-R
Known as the GT-R "Without limits", the standout gray and contrasting gold exterior offer a unique look on this luxurious, futuristic vehicle. A gold inner element surrounds the grille and gold inlays accent the signature design of the GT-R. Engineers at Nissan and Italdesign added a muscular flare around the wheels, complete with red Brembo brakes that look small on the large twenty-one-inch custom wheels. Black Italian leather and black Alcantara seating are fitting with an interior that looks classy and sophisticated. The flat-bottom steering wheel's central hub and spokes are crafted from carbon fiber. The design and detail is what one would expect from a vehicle of this price point; excellent and well-made. 
"This is a very special day, after extremely difficult weeks for everyone. After we had to renounce to the world premiere at the Geneva Motor Show and, after the partial stop of our production activities due to COVID-19, in early May we have returned 100 percent operative and can confirm the delivery of the first cars between the end of this year and early 2021, as planned," says Jörg Astalosch, Italdesign CEO. 
Under the Hood of a Million-Dollar Car
The GT-R50 has a turbocharged 3.8-LIter V6 engine that produces 710 horsepower and 575 lb-ft of torque. As with most of this vehicle, there are enhancements all throughout the powertrain and under the hood. Dual-clutch sequential six-speed rear transaxle and installed stronger differentials and driveshafts. How will the Nissan GT-350 stand out from the market of luxury sports cars? Its high-flow piston gets, higher-flow fuel injectors with heavy-duty crankshaft, pistons, connecting roads and bearings can speak to its premium quality. The suspension is also top-notch as it received an upgrade over the previous model with added Bilstein continuously adjustable damping system. 
"Our customers have relished the personalized experience provided by Italdesign, who have a long tradition in the exclusive field of ultra-rare, bespoke high-performance vehicles. Their experience with the GT-R50 has been incredible and I can say first-hand that each car will certainly be a standalone masterpiece," says Michael Carcamo, Nissan's Program Director Sports Cars and NISMO.
Let Us Make Your Car Shopping Experience Seamless
For more information on new Nissan vehicles and pre-owned Nissan vehicles, check out Nissan at Nissan Ellicott City. Let us know on our Nissan Ellicott City social media what you think about the Nissan Rogue and comment on all things automotive. Our dedicated sales team is friendly and ready to assist with all buying, leasing, or trade-in offers right from the safety of your home. 
If your current vehicle has on-going maintenance issues or needs work, please allow us to help return your vehicle to the road healthy, just make a quick online service appointment. We can assist with nearly any service needs you might have. We look forward to making your automotive shopping experience at Nissan Ellicott City a good one!