Nissan's e-4ORCE is a Clever Solution for Car Sickness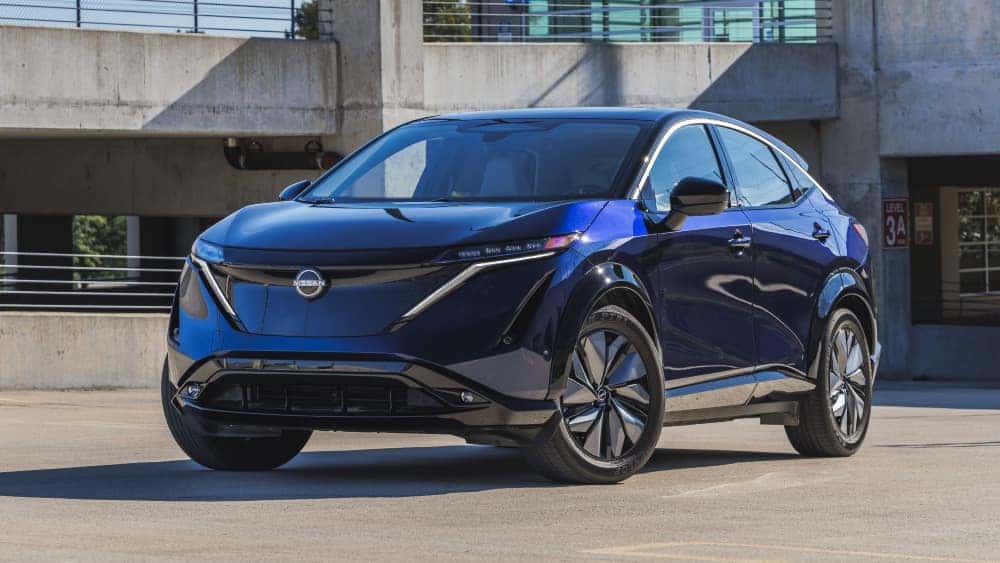 Photo Source: Car and Driver
Within the world of mass-market electric vehicles, a frontier that Nissan pioneered with the Nissan Leaf in 2010, there has been a growing trend to focus on pure performance. The combination of an electric motor and battery pack establishes levels of acceleration and torque once reserved for supercars. While the exhilaration cannot be doubted, the automaker is taking a balanced, customer-centric approach with its latest electric powertrain technology – focusing on more than mere speed. Nissan's new electric-drive four-wheel-control system improves passenger comfort by reducing cabin motion and offering a smooth ride.
e-4ORCE is a new drive system that integrates the four-wheel drive control technologies, chassis control technologies, and electrification technologies the brand has long been developing. The "e" in e-4ORCE stands for the company's 100 percent electric motor drive system. Meanwhile, "4ORCE" refers to the vehicle's energy and physical power, with "4" representing all-wheel control. From everyday driving to slippery and winding roads, this unprecedented system enhances all kinds of driving, allowing for high-quality, responsive, and robust driving. As a matter of fact, e-4ORCE may be so effective that Ariya and X-Trail SUVs outfitted with it could be the most pet-friendly vehicles yet.
Managing Motion Sickness
Car sickness has been the bane of canine passengers' existence on trips, whether long or short. However, e-4ORCE helps put that issue in the rearview mirror by ensuring a steady ride. When cornering, the system automatically calculates the driving force that is required to turn, accelerate, and decelerate in response to the driver's input and in accordance with constantly changing road conditions and driving, then controls the driving force of the four wheels by way of the front and rear motors and the left and right brakes. In other words, precise control of all four wheels facilitates quicker cornering. Moreover, back-and-forth body movement is lessened, thus making driving feel both comfortable and safe.
By controlling each wheel's power delivery and braking, e-4ORCE can administer the forces working on the car to decrease lurching motions when accelerating and braking. Less vehicle movement results in a reduction in body movement that can cause car sickness for both two- and four-legged occupants. In fact, the Japanese manufacturer released a video showcasing how its inventive automotive technology has a positive effect on a couple of four-legged friends.
Nissan took Hop, a border collie, and Lulu, a beagle, for drives in an e-4ORCE-equipped X-Trail and Ariya while filming an amusing video that underscores the advantages of Nissan's motion-defying technology. The canines are initially depicted as being entirely hesitant and reluctant to participate in any drive. Still, Hop and Lulu are spotted as being peacefully elated at the end of the video courtesy of e-4ORCE's stable ride.
Electric Vehicle Engineering
Ryozo Hiraku, expert leader of Nissan's powertrain and electric vehicle engineering division, claims, "When people hear 'four-wheel drive,' special situations like off-road or in snowy conditions usually come to mind. But e-4ORCE is much more than that. It takes the daily driving experience to a new level. During testing, more than 100 employees tried e-4ORCE, and all noted they could feel the difference in ride quality." He was especially pleased when receiving constructive feedback from the participants involved: "I was happy when one of them said, 'I don't think my dog will get carsick in this.' We hope the entire family, including your furry friends, will get to enjoy driving with e-4ORCE."
For almost twenty years, Nissan has had a history of supporting pets via their purpose of "Driving innovation to enrich people's lives." The automaker is providing technology that offers a new degree of control. As the technology evolves, please come visit Ellicott City Nissan to get a view of the 2023 Ariya, or if you prefer, we have a whole lineup of new and pre-owned vehicles for you to choose from. We are proud to be your dealership home.