The 2022 Nissan Pathfinder Shares Minivan Qualities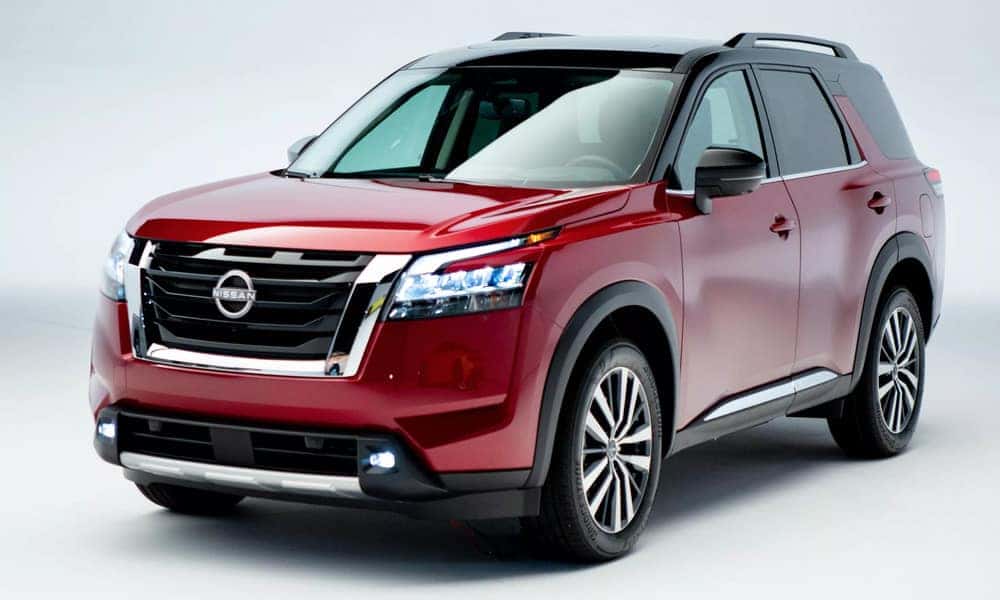 Families and adventure seekers are the two demographics that are most often in the market for a new SUV or Crossover and that is why automakers like Nissan are continually updating their line-up to offer consumers the best and latest in vehicle technology, driving comfort, and safety. For the 2022 model year, the Nissan Pathfinder platform received a major redesign that includes a whole range of new cabin features, new exterior styling, safety, and driver-assistance technology, and an improved drivetrain for better performance on the road. The 2022 Nissan Pathfinder, is a three-row SUV that is hitting the ground running for the new year with a bold new exterior and all-new technology. The Nissan Pathfinder is moving into minivan territory with its seating capacity of up to eight passengers, which puts the Pathfinder on a higher playing field in the competitive three-row SUV segment.
What's New for 2022
Nissan decided it was time for a brand new look for their Pathfinder platform that will attract the attention of consumers. This time around, Nissan did not resort to conservative design cues or minimalistic elements but instead decided to build upon a futuristic look that will be the foundation for future Nissan SUVs and electric vehicles. The Nissan Pathfinder has a wider stance with a rugged look all throughout its body lines that evokes a strong road presence and inspires driver confidence.
The SV and SL trims will come equipped with a tow hitch and harness as an option and are standard on the Platinum trim that allows the Nissan Pathfinder to haul up to 6,000 lbs. This is 1,000 lbs more than the Kia Telluride, Hyundai Palisade, and Chevrolet Traverse, which grants the 2022 Nissan Pathfinder more leverage in its competition with other SUVs. Drivers can also have more confidence on the road with Nissan's Trailer Sway Control which comes as standard when buyers select the hitch and harness option.
Minivan Functionality
The 2022 Nissan Pathfinder has a total of 16 cup holders throughout the cabin, which is more than enough for all the passengers who have a knack for sodas or juice. There are also optional captain's chairs for the second row, for buyers that seek a different seating arrangement. While on a family road trip or on a vacation with friends, there are plenty of USB ports in all three rows for charging small devices and appliances. For devices that require a little more charging power, 120V three-prong outlets are available in the second row. With a seating capacity of up to eight passengers, the Nissan Pathfinder is set for success for 202. The standard second-row bench seat has one-touch folding and sliding functionality that will give riders easy access to the third row.
Japanese Engineering
With Nissan's decision to discontinue the CVT in the Nissan Pathfinder in favor of a more reliable nine-speed automatic transmission, the new Pathfinder will be more durable than ever before. There has been an upsurge in demand for SUVs and crossovers, with buyers flocking more toward high-end European and American SUVs, but Japanese SUVs are still a viable option. Japanese SUVs rank high when it comes to reliability and practicality, and the 2022 Nissan Pathfinder is ready to hit the road with its 3.5 L V6 engine that outputs 284hp and 259 lb-ft of torque, rewarding drivers with plenty of power. The 2022 Nissan Pathfinder goes on sale in the summer of 2021, ready to show off at the dealership and be available for test drives.
For more information on the 2022 Nissan Pathfinder, stay connected with us at Nissan Ellicott City. You can fill out our contact form, and we will answer any general inquiries or questions you may have about the all-new Nissan Pathfinder or any other Nissan vehicle. We are currently offering amazing deals and discounts on our crossover and SUV inventory, we look forward to your visit!
Image Source: Nissan