The 2023 Ariya is Poised to Reinvent the Nissan Brand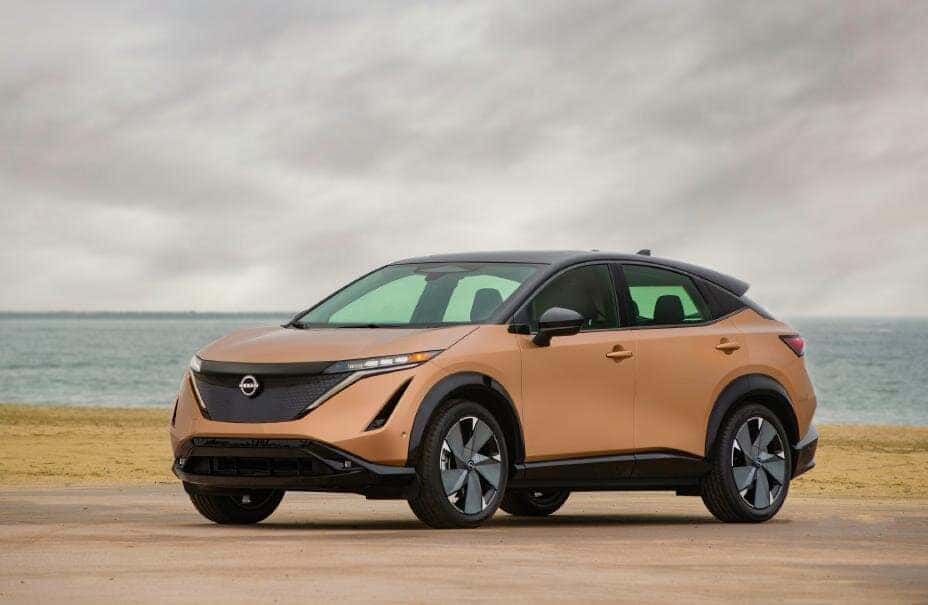 Photo Source: NISSAN
Nissan is preparing to debut its sophomore electric vehicle, the 2023 Ariya SUV, which will join the likes of the Leaf hatchback. This will be over ten years since the brand introduced the Leaf as a cost-effective electric vehicle. Rather than reaching for something that has never been seen before, Nissan is aiming straight at the burgeoning compact electric crossover segment. After such a long timespan, to say that the Ariya is a significant automobile to the automaker is putting it mildly, as it seeks to restore itself as a determined contender in the electric vehicle segment. 
Nissan has sold more than 600,000 Leaf electric vehicles and expects the Ariya to travel along a similar vein with those individuals yearning for an all-electric crossover SUV. As a matter of fact, Nissan has a strategy to premiere fifteen new electric vehicles around the world over the course of the next five years, and it is all set to begin with the 2023 Ariya. 
The overall design of the Ariya indicates a change from the usual sharp, angular lines that make up the look of many Nissan vehicles. It is more stylish, with a low, wide stance and a sloping roof that lend the Ariya a sportier, modern appearance.
Driving Made Simple
From the driver's seat, the compact SUV gives no impression of instability. The steering is precise and weighted, which is undoubtedly going to be welcomed by consumers who are buying an electric vehicle for the first time. The suspension is established to feel practical, less performance-driven, and more comfortable. In short, the 2023 Ariya handles well, with the body roll being reasonably minimal, mainly when dealing with quick turns. Its electric powertrain is accessible with one motor or two and supplies instantaneous torque. 
The single-motor front-wheel drive trims have more than enough agility for a daily commute. More to the point, the vehicle can go 60 miles per hour in 7.5 seconds; however, it can be assumed that the more powerful all-wheel-drive Ariya should be much swifter once those trims make it to the mass market by early 2023. The compact SUV caters to a calm, balanced ride that should be pleasant for most drivers, while the all-wheel drive version–once available on a wide scale–should provide the extra amount of pep that driving fans are partial to.
Three distinct drive modes are at the buyer's disposal, and each one can drastically alter the vehicle's personality. Eco mode provides the finest range, Standard mode is acceptable for commonplace, daily drives, and Sport mode offers fast acceleration. To help maximize range while slowing the vehicle, the 2023 Ariya depends on regenerative braking. Turn on e-Step, and the Ariya will automatically apply regenerative brakes in a natural and unswerving manner.
Interior Comfort
The compact SUV has a minimalistic interior design that complements the exterior. The dashboard is as smooth as it can get, with no buttons in sight. The cabin's floor is low and flat, which generates a spacious feeling amplified by Nissan's decision to include zero-gravity seats. Furthermore, all trims are accompanied by the Nissan Safety Shield 360 systems. The 2023 Ariya even has two new safety systems to launch: ProPilot Park, for example, can automatically take care of parallel or perpendicular parking duties, while an updated adaptation of ProPilot Assist relies on a merger of sensors, radar, and cameras to permit hands-free driving on an advanced scale.
The transition to electric vehicles highlights a chance for automakers to renovate an entire vehicle, like the 2023 Ariya, around a unique look and feel. Here at Ellicott City Nissan, we are excited to see where this road takes us and you. Stop by our convenient location, where our passionate staff is available for all your Nissan needs. Whether you would like to refresh your current automobile with an online service appointment or have financial questions that require answering, we are here for you.