The 2023 Nissan Ariya SUVOTY – A Review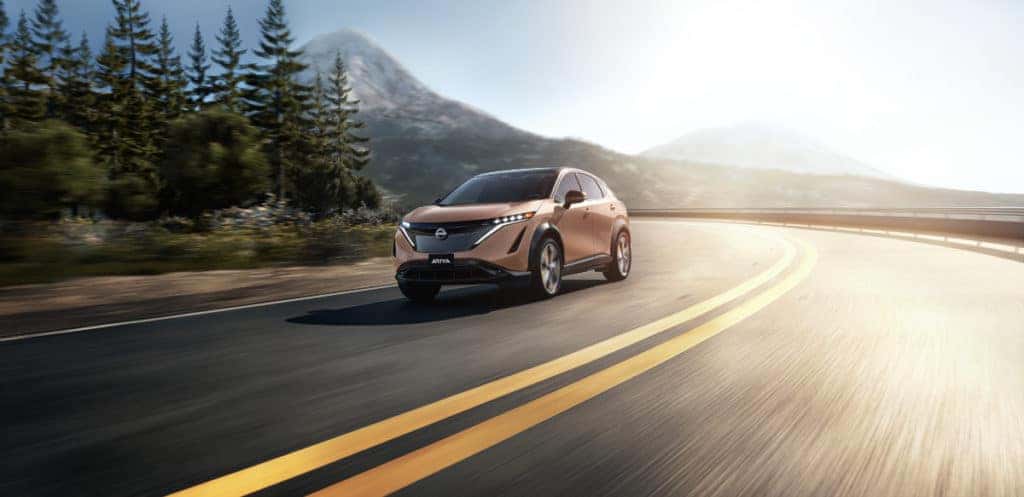 Photo Source: Nissan

The all-new 2023 Nissan Ariya electric SUV is an all-new SUV with some unique and efficient electric touches that make it stand out amongst the many electric vehicles on the market today. It makes a great first impression on buyers looking for an EV with more to offer. It follows through on its good points with a sleek interior/exterior combination, the brilliant ProPilot Assist system, and how easy it is to operate. When it comes to this electric SUV, Nissan has taken great care to listen to what enthusiasts wanted out of such a vehicle and made it something beyond their wildest dreams. Let's look at what makes the Ariya a stand-out SUV within the electric vehicle market.
Interior/Exterior Styling
The interior features a modern take with its touch-sensitive buttons, which are integrated into the beautiful wooden trim. It gives the vehicle a much more elegant and seamless feel, while the motorized center armrest adds to its charm. Nissan has also included a power-operated under-dash drawer with a sliding lid known as a "slide-out table" to allow buyers to use it as a mobile office or even an on-the-go picnic table. This table can hold smaller devices like an iPad and smaller picnic-type meals for those needing to get a bit of short work done on the go. It sports a beautiful aerodynamic body that curves in all the right places for easy handling when driving. It has the bold look of an SUV but doesn't look too much like other Nissan SUVs, giving it more of an edge.
ProPilot Assist
Nissan has ensured to make the ProPilot Assist on the Ariya one of the best features of the SUV. The ProPilot Assis 2.0 within the Ariya provides buyers with hands-off driving on mapped roads (along with lane centering on other roads). It is one of the better systems in the competition, and with all the safety and driver assistance features packed into it, it's easy to see why this is the case. It also adds a unique feature, known as E-Pedal mode, which offers one-pedal driving. 
The Ariya Operates with Ease
It offers buyers a capable and captivating driving experience thanks to the light and comfortable steering capabilities it brings. The single-motor, front-wheel drive trim paired with the long-range battery offers buyers a more relaxed electric vehicle for those not looking for a vehicle solely focused on heavy performance. It also makes it a perfect EV for families as it offers a more gentle power delivery that pairs well with an approachable driving experience. It also makes it ideal for those looking to purchase their first electric vehicle with a more reliable company. The Ariya stands out in every way possible, allowing everyone to see what the next generation of Nissan vehicles could be like!
Excited About Nissan's Electric Future?
Excited about getting into a new vehicle? We are, too, here at Nissan Ellicott City, where the selection is always wide, and the excitement to help our customers is never-ending! Whether you're looking to take a peek at our new vehicle inventory or our quality used vehicles are more your speed, we've got you covered! In need of a refresh on your vehicle to bring it back to life? Our amazing service team can handle that with ease by scheduling an online service appointment with our service center! Sit back and relax as our team of professional techs take care of your vehicle.
Whether it's financial help, general questions, any vehicle needs, or suggestions on easier payments for your vehicle, we're always here to help at any moment! Stop by today and see what we can do for you right now!